Contact
Catfarm
699 Cabrolous
34560 Poussan
France
HOTLINE : 00336 75 79 61 98
please use the contact form for volunteer questions/enquiries <3
We prefer if you contact us before dropping by.
Mail: Catfarm@adventuresofthevalparaiso.com
For press information please contact:
press@adventuresofthevalparaiso.com
Please use volunteer page for signing up as volunteer!
HOW TO GET HERE
Address: 699 Cabrolous, 34560 Poussan, France
https://osm.org/#map=19/43.498/3.658   <<<< Click to open the location in OpenStreetMap!
Or GPS:  43°29'54.6″N 3°39'29.2″E
By plane go to Montpellier, if thats not possible go to Beziers.
Public Transport from Montpellier
1.5 – 2 hours from the centre of Montpellier, depending on how well your tram connects with the bus.
Take tram line 2 from Montpellier (it's 1.60 euro for a ticket): get off at St Jean le Sec, which is one stop before the end of the line (St. Jean de Vedas).
Then you can take a bus (another 1.60 euro): either the 312 to Meze (direct) or any to Gigean. Ask if they will pass Poussan if unsure ("allez-vous à Poussan?").
You can look up live directions on the site Rome2Rio if you need to; just change the "From" field to suit your starting place. https://www.rome2rio.com/map/Montpellier/699-Cabrolous-34560-Poussan-France
BUS SCHEDULE at St. Jean le Sec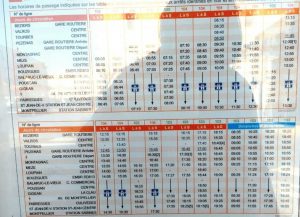 ( Last one is about 19:30, though they can depart a bit earlier! So be on time.)
GET OFF AT CENTRE-VILLE
The bus will have an orange LED screen that has the name of the next stop it is passing through. When it flashes "POUSSAN" "CENTRE-VILLE",  press the button, and you will be dropped off in the middle of the pretty little village.