Erasmus Youth Exchanges
Our Erasmus+ Youth Exchanges bring young people from different countries together and provide them with an opportunity to make connections, network, share and exchange knowledge, skills and cultures. In addition, during our youth exchanges, we help youngsters build a deeper understanding of themselves and the world around them. We use art, theatre and non-formal education methods to improve various key competencies such as a sense of initiative and entrepreneurship, cultural awareness and expression, and many others. Our Catfarm youth exchanges are unique since we work as a community and everything is run by and for young people to strengthen their knowledge and give them more confidence.
Check our calendar on Facebook for upcoming Youth exchanges and other events.
There is a story that connects all the activities. A thematic acts as a glue for the entire exchange and helps the participants to bond together.
We will decorate the entire farm according to a theme. This can range from medieval to tribal and futuristic, and then we will invite all knights, princesses, heroes, and time-travelers to join us. We expect all participants to bring a costume according to the theme.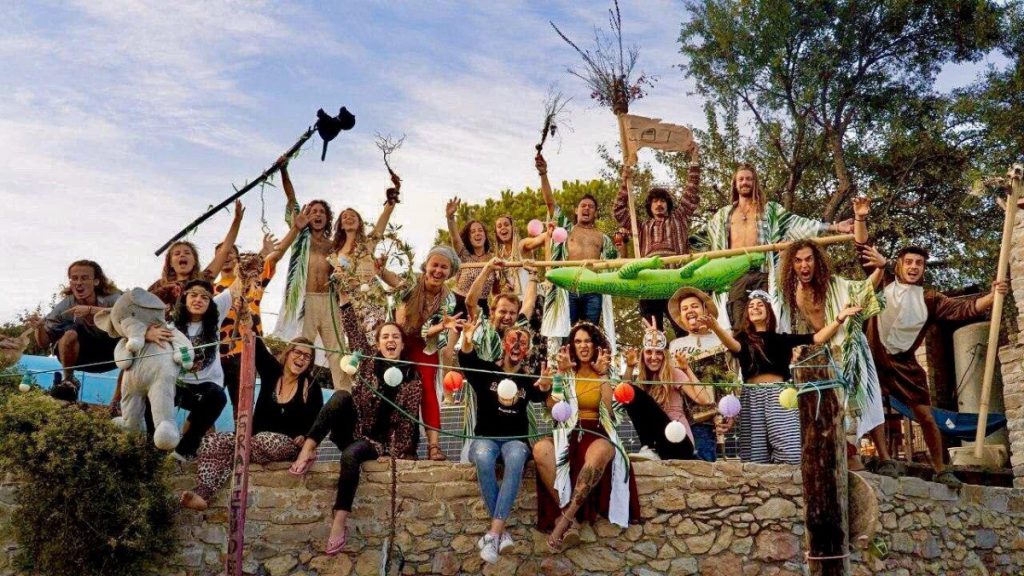 Facilities on the farm
At the Catfarm community, we host the Erasmus+ projects for Catfarm Education and the Adventures of the Valparaíso.
Two participants sleep in a three-person tent with thick airbeds

Sleeping bag and pillow required and extra blankets available if cold

Two outdoor swimming-pants showers (powered with solar energy)

One indoor, normal shower

Two normal toilets

One compost toilet

Small kitchen and a professional kitchen for up to 70 people

Tipi available

Shadow above the long stretched tables outside

Bakery and supermarket nearby

Excellent 3G coverage on the farm, and wifi available for group leaders.
Travel to the Catfarm
We reimburse up to 275 euros for travel costs.
(minus 30 euro participation fee)

We require you to choose the greenest way to get to the farm (Directions can be found HERE).
Rail/Coach is obligatory for travel not exceeding 1000 km (2nd class only).

Plane (economy class only) can be an option if travel exceeds the




distance of 1000 km or 24 hours of total traveling time.

We accept receipts from alternatives like

Blablacar

.
Requirements for partner organizations and their participants
Interested in the off-grid alternative way of living and staying in a tent

Gender equality; no sexism on the farm

Punctuality

All participants (inc. youth leader) must bring a costume according to the theme.

A fair level of English is required for participants, a good level for the leaders.

Participants must be between 18-26 years old


Inform participants about venue and theme

Participants cannot leave before the end of the exchange

30 euros of participation fee for each project. This will be deducted from your reimbursement
For Participants
Are you Dutch or French? In this case, you can sign up as a participant directly.  Please sign up using this form. 
For Partner Organizations
APV
We expect one group leader plus one participant at the APV.
Out of these two, at least one has to be present during the actual YE.
Social media
Please use tags @catfarm.poussan on Facebook and @the.catfarm on Instagram.
We are happy to announce you as a partner on Facebook. For this please send us a nice picture with a short text about your organisation 🙂
Infopacks will become available two months before the arrival date. We will send you this by email together with the participant form.
Before you get the infopack, you can already start searching for participants after project confirmation.
Host your Youth Exchange here and use our facilities
If you wish to host your own Youth Exchange on the Catfarm please take a look at the location rental page and get in touch with Ulysses Schuitemaker at Ulysses@adventuresofthevalparaiso.com
Becoming a partner for one of our projects
Interested in becoming a partner organization? Please send us your PIF to trainings@adventuresofthevalparaiso.com