PLEASE READ EVERYTHING CAREFULLY <3
Let us start by saying that this will not be your usual Erasmus+ program. Aside from the Youth Exchange workshops, you are about to embark on a new lifestyle of COMMUNITY, SUSTAINABILITY & CREATIVITY.
We challenge all newcomers to join us in community work, experience a vegan diet and participate in sharing circles and meditations.
We believe in taking responsibility for the energy we use, the food we eat, the waste we create, the well being of those around us as well as of the generations that will come after. Through offering experiences, education and understanding we inspire youth to shape the world they wish to create. For the better and brighter!
Our Erasmus+ Youth Exchanges bring young people together and provide them with an opportunity to make connections, network, share and exchange knowledge, skills and cultures. We support the participants in building a deeper understanding of themselves and the world around them by presenting them with an alternative way of living in a community and in connection with nature. We use art, mindfulness and non-formal education methods to improve various key competencies such as a sense of initiative and entrepreneurship, cultural awareness and expression, and many others.
Check our calendar for upcoming Youth exchanges and other events.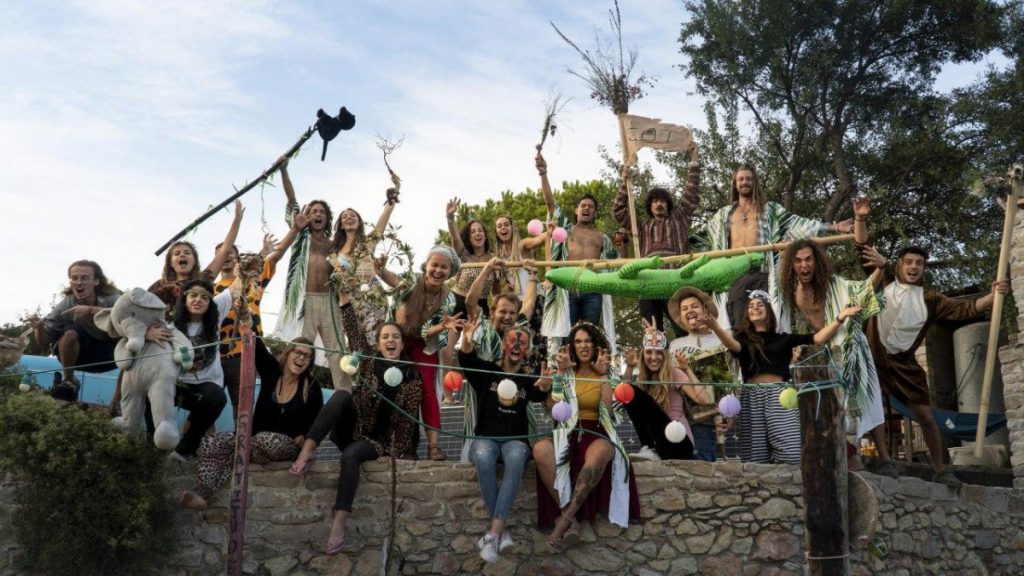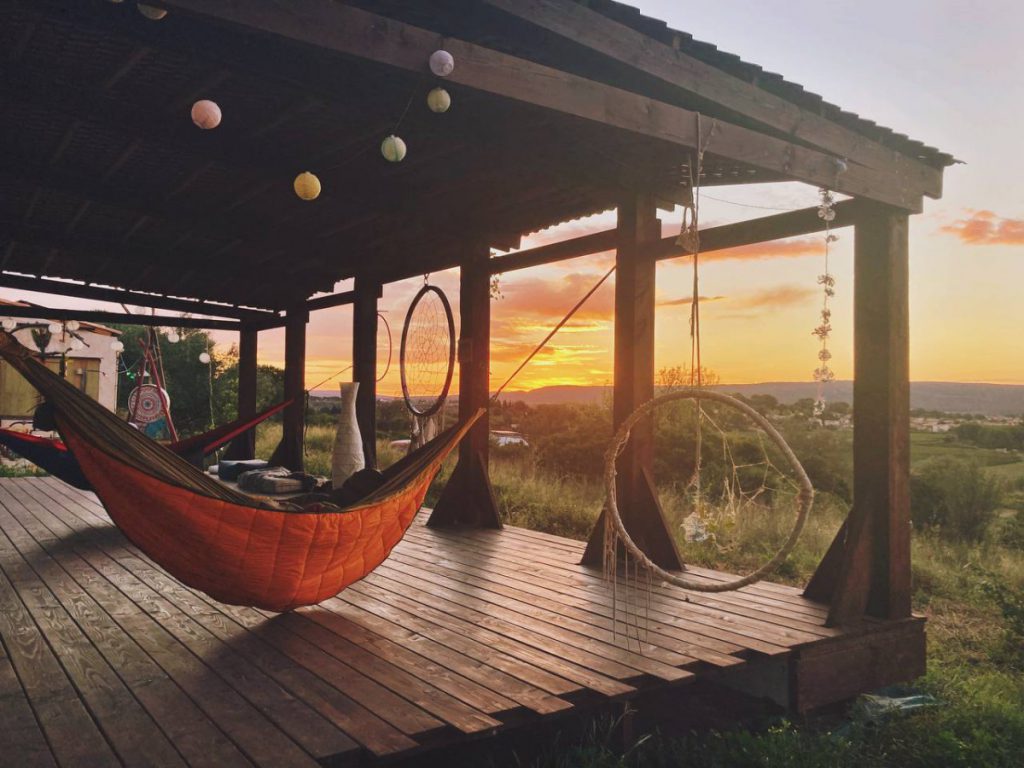 Two participants sleep in a three-person tent
Two indoor showers


Two compost toilets outside and a toilet inside (only for pee or if you are on medication).

One small kitchen and one professional kitchen (we only cook vegan food!!!)
The hangar, indoor communal space where we also eat
Wooden terrasse with shade where we eat together and host some of the outdoor workshops
3G coverage on the farm, and wifi available
One indoor workshop area
A meditation tippi
Bakery and supermarket nearby
Sleeping bag, pillow, bath towel, swimming suit, beach towel. We give extra blankets if it's cold.

We expect you to choose the greenest and most affordable way of traveling.
Address: Catfarm 699 Cabrolous 34560 Poussan France
IMPORTANT:
– Choose the train or bus unless your trip would be longer than 24 hours.
– Do not take an Uber or Taxi unless there is no other way, or first class seats unless it is cheaper.
– We do not cover hotel nights
– You must travel on the designated project arrival and depart days.
PLEASE! Try to arrive at Catfarm before the evening (after that there might be no more buses).
The budget for traveling is between €275. 
Why do we want you to travel green? check out this article on our blog.
Rail/Coach is obligatory for travel not exceeding 1000 km (2nd class only).
Plane (economy class only) can be an option if travel exceeds the distance of 1000 km or 24 hours of total traveling time.
We accept receipts from alternatives like Blablacar.
Arrive before 5pm in Montpellier to still be able to go by yourself to the Catfarm.
In case you are not able to arrive after 5pm in Montpellier, communicate with other participants to arrive in a group.We can pick up groups (4-6 people) in the evening/night by car, but only in case there are no options for you to arrive before 5pm! Please make every effort to be at the farm by yourself as the CATS will be busy preparing the projects for you.
Check all the transportation you need to get to arrive at Catfarm – the village of Poussan (not only to the main cities around like Montpelier and Sete).
How is life in the Catfarm different?
We are aiming to reduce our impact on the planet.
Water and electricity: at the Catfarm every water drop and power watt matters! Our farm is powered by solar energy and our water comes from a natural source. We have built our own electricity and water systems so we know exactly where our resources come from and how much they last. You will also be challenged to change your perception of water and electricity as a given and learn to value them! Only charge devices during daytime!
Recycling/Upcycling: reducing consumption is only one of the steps into lowering our impact on the environment. We also need to make sure we are using everything to its full potential before throwing it in the bin. We use waste to build things that make our community prettier and more functional. For those things that really do not have any further use, they are properly separated and sent to recycling centers.
Food: we could not try to reduce our impact on the environment without reducing the burden on animals. For that reason,the community meals that we prepare are vegan, we try to use the food waste from the market and from bio-shops as much as possible and we try to buy as much bio food as we can.  At the farm, you will learn that there's plenty more to food than steak and chips, and that lettuce and tomato are not the only vegetables in the world!
Self-hygiene: we only use biodegradable soaps. Please don't take any non-biodegradable soaps with you to the farm since they can damage our septic system!
Toilets: when we say everything is used to its full potential, we mean EVERYTHING. Including poop! At the farm, we have a compost toilet where you can deposit your lovely poop so it becomes delicious compost for the plants!
We kindly ask you to use the compost toilet on the Catfarm and we understand that for some people this is a big step. But it's part of the experience. DO NOT use the compost toilet IF you are on any medication, birth control, antibiotics etc.
In this case, you can use the inside flushing toilet. About toilet paper: you can throw toilet paper inside the compost toilets, but when you use the flushing toilet, please throw the toilet paper in the bin and not inside the toilet.
Community living: if we want to look after the world we live in, why not start with our own community? The Catfarm is a co-creation from all the people who have lived here, including you! If you have any nice idea about a creation or a cooperation, we would love to listen to you and eventually decide together how to make it real! 
Principles of Community Living
These principles will ensure you get the most out of the experience and make it an enjoyable time for everyone at the farm.
1) If you use anything, put it back the way you found it. This goes for dirty dishes, cutlery, paint, chairs, tools, etc.
2) Clean up after yourself. No one likes to live in a dumpster so please keep the place clean and tidy and do not expect the Cats or your fellow Explorers to clean after you.
3) Save water. Do not take long showers and do not wash your hair every day. You're also going to try this new thing of turning the water off while using the soap. It's great fun, I promise! Also, use water toilet only for pees, so poopies go in the compost toilet (if you are not on medications)
4) Save energy. We heavily rely on solar energy to have electricity and I am sure you know the sun is not out around the clock. So do not charge any devices after the sun is down, turn off the lights after leaving the room and why not shower cold from time to time?
5) Respect our neighbors. There are families living next to the farm so there are silent areas in the farm where noise is not permitted after 10pm. After midnight, the whole farm is a silent area so please keep quiet after that time.
6)  Read, agree and respect our policies and guidelines and, if you have any doubt about them, please, feel free to ask us! They help us ensure a safe space.
7) Do not bring meat/fish into the farm kitchen or fridge.
Make sure you read all the information  from above. For more specific information about the projects check out the Facebook event page.
Bring an outfit! There is a story that connects all the activities. A thematic acts as a glue for the entire exchange and helps the participants to bond together. We love to dress up and decorate the entire farm according to a theme.
Interested in the off-grid alternative way of living and staying in a tent
Punctuality and attendance to all activities
Aged between 18-30
Open for vegan meals, community work, and activities like sharing circles, meditations and open mics.
Willing to open up and share their vulnerability with others
Motivated to disseminate project results and get involved in future follow up projects
Being able to understand and communicate in English;
Check out some moments of our previous Youth Exchanges