Volunteers
Step off-grid and join our collaborative art project and be a part of a purrrfect adventure! We are a collective of travelers working and growing alongside each other to build and maintain our community in the beautiful southern region of France.
This project offers the unique opportunity to learn new skills, showcase your talents, make life-long friends, and build a masterpiece together.
We have the equipment to build living structures and are open to all creative input.
The sky is the limit! If you are interested in collaborating with other types of artists, learning about sustainable living, and have an affinity for cats this is perfect for you!
---
If you are looking for opportunities that don't require you physically to be here
Please drop us a line with your CV and motivation corecrew @ adventuresofthevalparaiso.com
---
Two months longer summer here!
The Catfarm sits amongst wide open space near the seaside and just 30 km away from Montpellier's nightlife. The land allows off-grid living and has the potential for a permaculture system to be put in place. There is a lot of work to be done on this French farmhouse as well as a large amount of freedom for your own creative direction.
The thick castle-style walls of the house provide solid foundations and plenty of existing character oozing inspiration. It is a place where a community can thrive together whilst working towards achieving sustainability through creative collaboration.
The Catfarm gained its name from the hard-to-miss giant cat altar that stands tall above the farmland amidst the picturesque hills of Poussan.
Why you should sign up
• Opportunities to work on exciting sustainable projects
• Learn new skills
• We can teach people how to use tools!
• Meeting other interesting people from various places around the world.
• We love Arts!
• We teach people how to work with tools!
• Freedom to follow your own creative direction
Practical info:
Every day participants contribute €3,50/day which is for all meals.
Stay as a volunteer is for FREE. We do expect about 5 hours a day of participation.
One hour a day of community sorrows (cooking, cleaning, dishes etc)
2 weeks minimum
BYOS ( Bring Your Own Sleeping bag)
We start our day at 9:30 am.
We are organically organized and everyone participates and can influence the project at our community meetings.
Got a cool idea? Tell us!
Off-the-grid living can be more challenging than what you might be used to, and involves problem-solving and patience. But living in a community means we are all in this together, and no problem lasts too long when we work as a team.

Are you a remote worker or would you like to have a bit of extra space?


Check out our digital nomads' accommodation where you can work on your own projects whilst being part of the community!
At certain periods of the year Catfarm organises production periods like Youth Exchange training and sometimes parties. The production periods are: September and October, May and June. 
The exact events and dates can be found on our Facebook page. 
During the Youth Exchange in September the theme will be Go Green Go Gardening and in October about Non Violence Communication. If you are planning to visit at this time have in mind that the place will be full of awesome people. 
We expect collaboration between volunteers and Youth Exchange 

Try to arrive before and to leave after the event.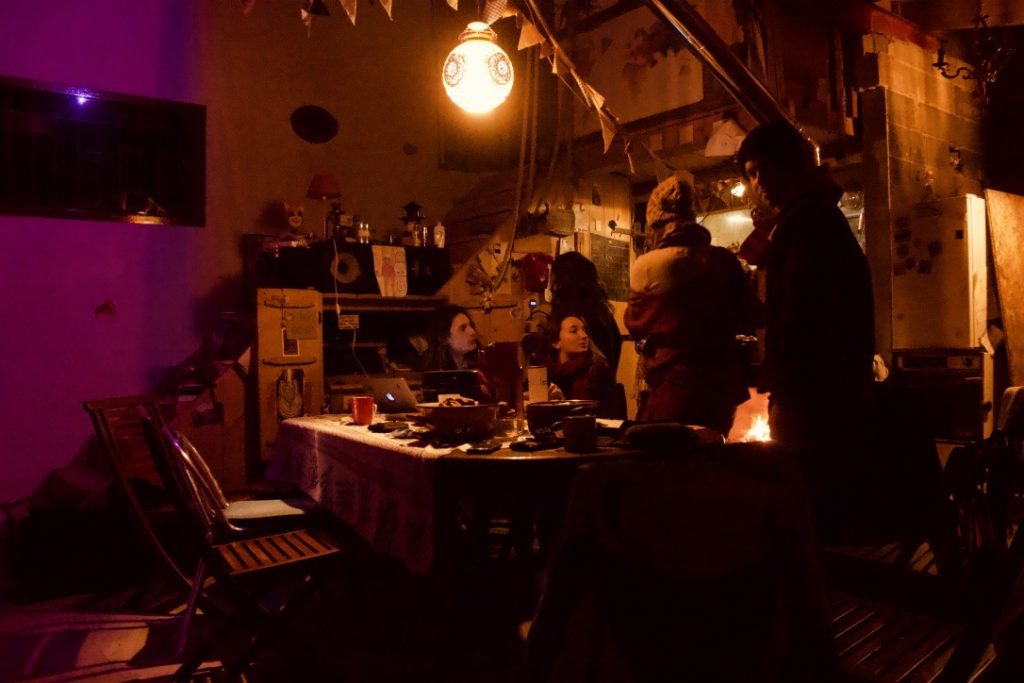 Our main living area, The Hangar, is where we sleep, cook and relax. We require volunteers to be open to alternative ways of living, as you will be sleeping in our shared space, or in a tent or hammock.
OPEN CALL FOR PARTNERS
Searching for community leader /
Permaculture farmers
Have a project and searching for a place to make this happen?
Or would you like to sign up as a community leader/permaculture farmer, or would you like to PITCH a project with us? Check out our OPEN CALL for projects.
For volunteer, visits fill in the form below.
Volunteers from Worldpackers please send us a message through Worldpackers!
Short stay? Check out the Peugeot 404 oldtimer or our tipi on Airbnb! 10% discount if you book through our website.
Want to help us get better known? Download our poster and hang it at your local community!