Upcycled Oldtimer with a Panoramic view of vineyards!
Be
part of the Catfarm nomadic community and sleep in our upcycled French oldtimer. The '74 Peugeot 404 is a work of art with his own personality and story. Due to its dive into the canals of Sète in the 90s, our entire community joined in an intense one-year process to upcycle it into an accommodation. Comfortable and private with the most stunning panoramic view of historic medieval Poussan and its vineyards. Purrrfect for the romantics that have always dreamed of a
BIG ADVENTURE
together.
Book through our website and receive 
10% discount
! How does it work? 
Check the availability on AirbnB
, and then use the form below. Call the
HOTLINE
for last minute reservations. Please clearly say you want to reserve the 404 for the night. ‭>> 00 33 6 75 79 61 98 <<<
The 1974 Peugeot 404 is a work of art with his own personality and history.
When the founder of the Catfarm forgot to set the hand brake in the 90s, the Peugeot took a plunge into the canal of Sète. It lay abandoned for years, slowly growing a covering of lush vegetation as it waited to find a new purpose, which finally materialised when the community upcycled it into a guest accommodation. Hauled out of the abyss and converted into a cosy and convenient shelter, the Peugeot has become a perfect home for curious travellers wanting to discover the charms of Southern France. 
It is now equipped with a comfortable double mattress, luggage storage accessible from your bed, curtains, Wifi, radio with Bluetooth and power sockets to charge your phone and laptop during the day. The cosy cat radio is preloaded with French music from the region.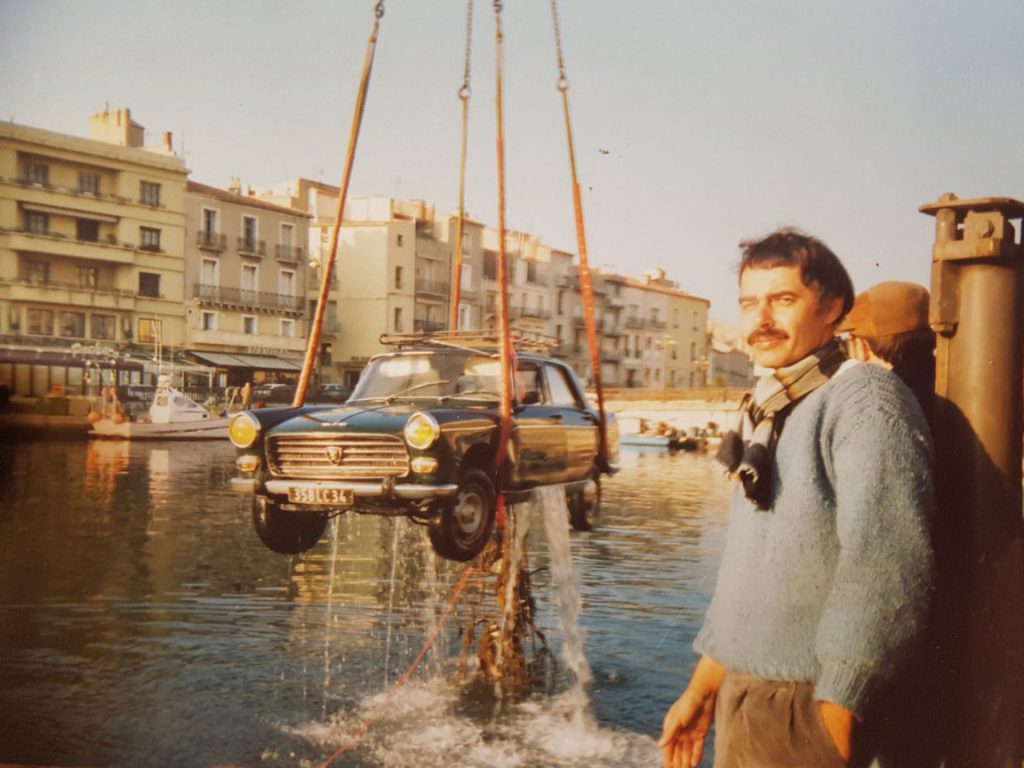 Be part of a community while still having your own private space.
Optional: A contribution of 4 euros per day per person to join us during breakfast, lunch and dinner as well as participation in the preparation of delicious meals and dishes. Without participation, there is a fixed price of 10 euros per day per person.
Learn new artistic skills or show us your existing ones!
We have two bikes for exploring the surrounding area. Sète's beach is only 25 minutes away!
Remote worker or digital nomad? We have tables for laptops.
In your free time, join us for games or share your tales over a drink!
Free parking.
We are an inclusive community. 
From the moment you enter you are part of the group no matter where you come from, or your ethnicity, gender, sexual orientation or religion.
Check out our Guidelines & Policies page for a better understanding of how we work.
HOW TO GET to the catfarm
The catfarm is located on the outskirts of a medieval village, less than one hour drive from lively Montpellier. Check the different ways of transport to the Catfarm.