Embarking on your journey to contribute to sustainable living this summer? Start your carbon detox journey en route to the Catfarm!

What is the Catfarm?
Our mission statement is "sustainability, creativity, community". We are an off-grid community that welcomes artists, entrepreneurs, (digital) nomads and travellers– anyone with a desire to explore a lifestyle closer to nature. As Catfarm is located on the outskirts of the medieval village of Poussan (less than an hour's drive from Montpellier), Catfarm is frequented by many travellers and Erasmus youth participants from around Europe and the world. more info here

However, this means that coming to Catfarm to be closer to nature may sometimes incur a hefty dose of CO2. As we love to continue welcoming an international community here at Catfarm, here is some information to help you make an informed decision in choosing the best mode of transport to arrive at your destination.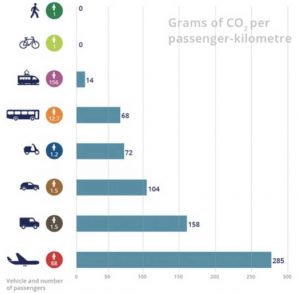 (Source: https://www.eea.europa.eu/media/infographics/carbon-dioxide-emissions-from-passenger-transport/view)
Figure 1 shows the carbon emissions of the various modes of transport in ascending order. As a general rule of thumb, walking and cycling are carbon net-zero modes of transport, whereas air travel emits the most about of CO2 at 285 grams per passenger kilometre!

Considering that the shortest air travel distance between Paris to Montpellier is 595km (=370 miles), that means that emitting about 170kg (yes, you read that right, kg!!) of CO2 within a short 1h15 min flight between the two cities!! On the other hand, taking the TGV incurs only 8.33kg (14 grams x 595)! That's over 20 times less CO2 emitted to get the same destination!
We carried out our own research on the carbon emission of our Cats as they travel from Paris to the Catfarm. Figure 2 shows the CO2 emission by mode of transport from Paris, in kg.

Clearly, land transport options emit far less CO2 than flying. Given the volume of passengers that the high-speed rail (the French TGV) can take, each person emits only 11kg of CO2 throughout their journey from Paris to the farm. On the other hand, flying incurs almost 20 times of CO2, emitting 214kg of CO2. What's more, perks of taking the TGV include being able to take luggage onboard the TGV at no extra cost— not to mention, the ease of transporting liquid necessities too! Direct train towards the Catfarm run from Paris daily, taking just under 4 hours.
One could say that time savings from not having to check in baggages, pass through security checks, waiting to embark and disembark, reaching at least 50 minutes before a flight departs pretty much evens out the amount of time incurred point-to-point between taking a train from Paris Gare de Lyon, as opposed to having to travel outskirts to the airports! Given the overwhelming ease of travelling with the TGV, why not enjoy a 4-hour journey to the South!
To get to the Catfarm, there is a direct train connection from Paris to the town Sète, 13km away from Catfarm. Should you be already in Montpellier, Catfarm is also directly accessible from Montpellier with public transport. It will take 1.5 to 2 h from centre Montpellier to Catfarm– a more detailed description of the public transport can be found here: www.catfarm.net/contact.



For more information on your carbon footprint for the various transport options, check out a carbon calculator like this one https://www.carbonfootprint.com/calculator.aspx. Couple of other websites we recommend that you look at for getting to Catfarm (and around France in general) are as follows:
For Erasmus participants and organisations
Hosting and sending participants to different Youth Exchanges can be really a lot of work! But changing a few things in your infopack and messages you send out to your group leaders and participants can make all the difference.
Be sure to make informed decisions about getting around. We recommend that you always consider the train as the primary option for transport. Not only train likely to be more frequent than planes, but they are also sometimes faster!
How do we reduce carbon footprint?
We are dedicated to practising and promoting a sustainable way of life. Here are some tips  that we hope participants and organisation alike will find useful in reducing your carbon footprint on Erasmus:
Our land transport policy
We strongly advocate that Erasmus participants use over-land means of transport, especially the trains, for any distance under 1000km to the Catfarm. A quick note for participants! Please check with your Erasmus host organisations if the receipts for a Blablacar would be accepted for Erasmus reimbursement.
Working with nearby partners
Working more often with partners near your organisation not only facilitate the ease of collaboration but also helps to ensure that the convenience of travelling by train to meet up.
Offering Vegetarian or Vegan food
Our cooks only make vegan/vegetarian food as our community believes in the ecosystem benefits of reducing meat intake. While we understand that not all participants identify as vegetarian, Cats at Catfarm are willing to adopt this positive lifestyle change for the period of their stint at our farm. We hope that these practices continue to impact their personal choices in their eating habits, even after the programme.
Collaborate with local supermarkets to avoid food waste


More often than not, local supermarkets have to dispose of food exceeding their shelf life, even though they may remain suitable for immediate consumption. Catfarm works with our friendly local grocers to collect what would have been food waste, twice a week!
Our next article will share some tips on how to go about contacting local supermarkets to request to save food waste!

We think that the National Agencies of the EU should promote overland transport
How? Increase budget allocation for overland transport and make agreements with railroad companies for a participant discount.
We hope that national agencies and Erasmus representatives reading this may consider allocating a higher budget for overland transport, to send a strong signal in support of reducing carbon emissions by 20 TIMES for the very same trip. A change to the budget allocation goes a long way over 9 million have already embarked on an Erasmus+ project(2017 data).
We hope that this article has given you some tips and tricks to make informed decisions about your travel methods and way of life as you go and have fun travelling the world and explore!
In case you have further questions regarding this article please contact us.
---
Sources:
Figure 1: European Environment Agency: https://www.eea.europa.eu/media/infographics/carbon-dioxide-emissions-from-passenger-transport/view
Data for the 180,000 students embarking on an Erasmus internship each year is taken from https://erasmusintern.org/content/about
* data from an email conversation with National agency of the Netherlands. 9 million is the total amount of participants until 2017.